Costa Rica Residence Permit
Costa Rica Residence Permit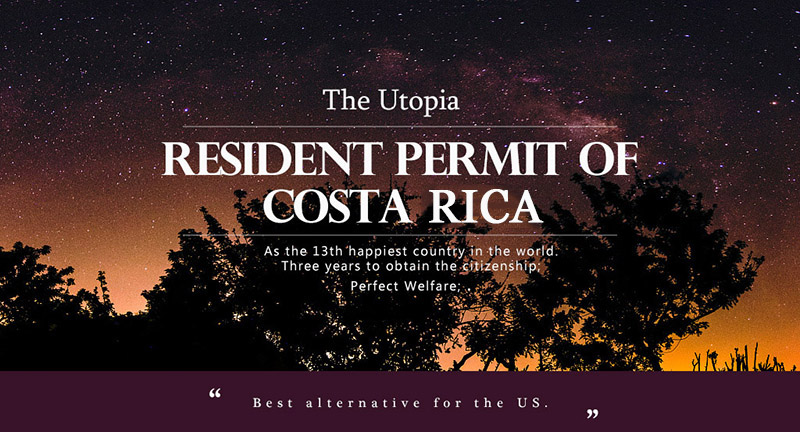 Costa Rica, officially known as the Republic of Costa Rica , is a sovereign state in Central America, bordered by Nicaragua to the north, the Caribbean Sea to the northeast, Panama to the southeast, the Pacific Oceanto the southwest. It has a population of around 5 million in a land area of 51,060 square kilometers. The official language in Costa Rica is Spanish, which features characteristics distinct to the country, a form of Central American Spanish.
Costa Rica is a unitary presidential constitutional republic. It is known for its long-standing and stable democracy, and for its highly educated workforce, most of whom speak English.
Costa Rica's seasons are defined as rainy season and dry season. The year can be split into two periods, the dry season known to the residents as summer, and the rainy season, known locally as winter. The "summer" or dry season goes from December to April, and "winter" or rainy season goes from May to November, which almost coincides with the Atlantic hurricane season, and during this time, it rains constantly in some regions.
The country has been considered economically stable with moderate inflation.
Costa Rica ranks the 13th in the happiest countries index.
Advantages
Three years to obtain the citizenship;
Perfect Welfare;
Free Medical Treatment;
Free Education;
As the 13th happiest country in the world.
No language requirements;
No education background requirements;
No stay requirements;
Requirements
1、Non-criminal record;
2、60000 USD Deposit (please contact us for non-deposit option).

Please contact us for more details
Phone +420 603 798 810
E-mail info@wz-p.com