Sweden Residence Permit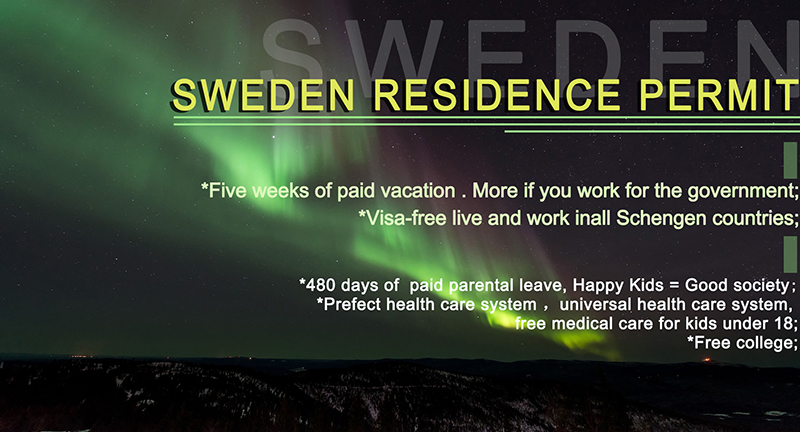 Sweden, a Scandinavian Nordic country in Northern Europe. It is bordered by Norway and Finland, and is connected to Denmark by a bridge-tunnel across the Öresund. Sweden is one of the largest countries in Northern Europe, with an area of 450,295 square kilometers.

It is also one of the richest countries in the world, with well-equipped infrastructure , perfect welfare and free college. You can experience the country's unique landscape : the brightly colored, historic buildings all around , surrounded by lush greenery , boats sail on the water. Sweden is a city ,once you step in , you'll never think about to leave .
Advantages
Five weeks of paid vacation . More if you work for the government;
480 days of paid parental leave, Happy Kids = Good society
Parents get a total of 480 parental days for each child. For most of those days you'll earn 80% of a salary of up to roughly $45,000 per year;
Prefect health care system ,universal health care system, free medical care for kids under 18;
Daycare is subsidized by the government . you will get a monthly child benefit from the government , which greatly reducing the burden of raising children;
Free college;
Visa-free live and work in all Schengen countries;
Requirements
1、Stay in Sweden for 6 months per year;
2、Sufficient financial support;
3、IELTS scores more than 4 points;
4、Relevant experience in investment project;
5、Set up a company in Sweden as a legal entity;
6、Own at least half of the company's shares.

Please contact us for more details
Phone +420 603 798 810
E-mail info@wz-p.com