11 Things You Need to Know About the Greek Way of Life
Blessed with a rich past, a beautiful country with splendid beaches and fantastic islands, Greece is definitely on trend in recent years. But there are a few things that many people abroad don't know about Greece and its warm residents. Interested in knowing what the Greek way of life is all about? Here is a condensed list of things you should know about Greeks.

Greeks treasure family values
Family is a core value of Greek society. It is not surprising to see a whole family living in an apartment building, with the patriarch living on the first floor, and children on subsequent floors. Even in big cities, there are hardly any retirement homes, and grandparents often live with or near their children. While this closeness can sometimes lead to funny situations as depicted in movies like My Big Fat Greek Wedding, it is certainly engrained in Greeks. Of course, in recent years, this trend has somewhat changed, but you can be sure that even if families are scatted across the country, they get together as much as they can.

Greeks are proud of their culture
This may be new for anyone who doesn't know anyone from Greece or has never been to Greece in their lifetime, but Greeks are indeed a proud nation. The strong legacy of Ancient Greece lies at the core of the nationwide pride and the plethora of monuments and landmarks still visible today are only a few reminders of the country's glorious past.

Greeks love to spend time outdoors
In a country where there is on average nine months of endless sunshine, it is not surprising that Greeks enjoy spending time outside. Add to that fantastic beaches, pristine natural parks and rugged peaks, and you clearly understand why people are always outdoors, even at 10PM on a weeknight.

Greeks are all about coffee
There are many books on Greek nationalism or on how to solve the economic crisis, but surely not enough on the love Greeks have for coffee. Whether it is their strong Greek coffee or an iced frappe, you will always see someone holding a cup of coffee. Seriously, coffee is so huge here that when you meet up with a friend on the weekend or after work, waiters don't bring the menu as it is assumed that everyone will order a coffee.

Greeks are big on traditions
Whether they have a religious foundation or are simply cultural, Greeks are big on traditions. For example, name days are celebrated sometimes more than birthdays. Weddings and engagements have a fair share of traditions and superstitions attached to them, and even when it comes to choosing a baby's name, tradition comes in first. All this makes life in Greece an eventful experience.

Greeks start slow but always end with passion
Some call it procrastination, some laziness. Whichever it is, there is certainly some truth in this statement. Take the months leading up to the summer Olympic Games of 2004 for example. After years of talks and preparation, the country was severely behind schedule six months prior. As former Minister of Foreign Affairs of Greece, Dora Bakoyannis said, "Greeks are like the syrtaki, they start off slow and go very fast at the end." In the end, everything came through for the Games and the international community was amazed.

In Greece, there is only two seasons: summer and the rest of the year
Greek summer is a wonderful time. The days are long and hot, and there is nothing else you can do beside spending the day at the beach or at least outdoors. It seems that everything is possible and that there is something magical in the air. Don't believe us? Just come to visit in the summer and you will see what we are talking about.

Greeks love good food
Known around the world for its healthiness, Greek cuisine mainly includes vegetables, fruits, and olive oil, as well as seafood and meat. You won't find much ketchup, ranch, or béarnaise sauce in a Greek kitchen as the food simply tastes good without any sauce or condiments besides fresh herbs, lemon juice, vinegar, oil, and salt and pepper. Even if you only eat a humble horiatiki (Greek salad), you will be amazed at how good it tastes.

Orthodox Easter is the Greek equivalent of Christmas
Christmas in Greece is certainly worth experiencing, but if you have the choice, come here for Easter. The most important religious celebration, Easter is mostly spent with family, around a table filled with great food and wine or beer. People often get days off from work to return back to their home village or island for the festivities and the whole country shuts down for the occasion.

Greeks love to eat together
As they are social and hospitable, Greeks like to get together to share a meal. Whether you are lost in the mountains and find yourself in a small village with only one taverna, you will be surprised by a free bottle of wine offered by a local or the owner of the taverna. And if you are lucky enough to be invited to a family dinner, don't be surprised if the meal lasts a few hours, until everyone swears they will start a diet soon.

Greeks love to party
Along with basketball and football, partying is a national sport in Greece. When the rest of Europe starts heading to the clubs around 11PM, Greeks are only getting ready. Here, you should not be surprised to see people showing up around 12.30AM or 1AM and only return home at sunrise.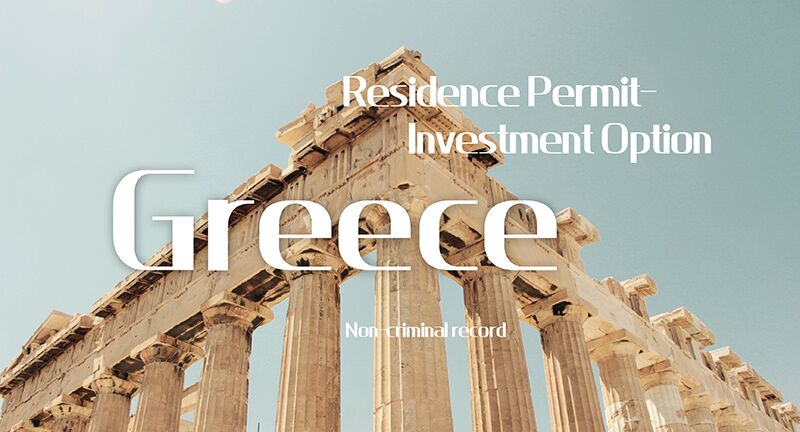 Greek nominations requirements:
1. Non-criminal record;
2. 50,000 euros bank statement;
3. Medical report (AIDS, hepatitis B, tuberculosis and general items)
4. Real estate certificate;

Greek purchase a property requirements:
1. Non-criminal record;
2. Purchase properties over 250,000 euros;
3. Medical report (AIDS, hepatitis B, tuberculosis and general items)

Why choose us: WZ&P is the expert in residence and citizenship planning. There are hundreds of clients and advisors rely on our expertise and experience. Our highly qualified professionals work together as one team worldwide.

We have 18 offices worldwide. For related links, please click:
Global Office

Want to know more?Please contact us for more details
E-mail: daisy.p@wz-p.com

Related Articles: Greece Residence Permit